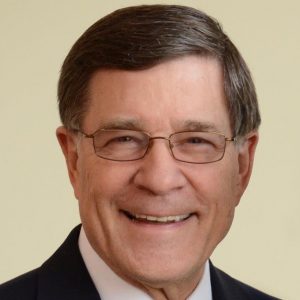 Thought Leader - Men's Breakfast
Eugene B. Habecker served as president of Taylor University from 2005 -2016.  Prior to coming to Taylor in 2005, he served in presidencies at the American Bible Society (1991-2005) and Huntington University (1981-1991).  He served in other administrative positions at George Fox University and Eastern University.
He holds degrees from Taylor University (BA), Ball State University (MA), and the University of Michigan (PhD). He earned a law degree (JD) from Temple University and is a member (inactive) of the Pennsylvania Bar. He is a graduate of the Institute for Educational Management (IEM) program at Harvard University and is the recipient of nine honorary degrees.
Dr. Habecker has authored numerous professional articles and five books:  Affirmative Action in the Independent College (1977), The Other Side of Leadership (1987), Leading with a Follower's Heart (1990), Rediscovering the Soul of Leadership (1996), also published in Spanish, Portuguese, and Chinese, and The Softer Side of Leadership, (2018). He is the editor of two other books – Fresh Perspectives: A One-Year Devotional Book (2006) and Fresh Perspectives: A One-Year Devotional Book, Volume Two (2015).