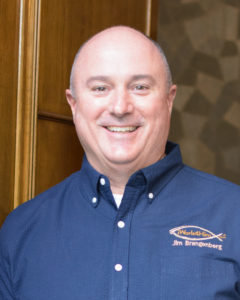 An entrepreneur for life, Jim Brangenberg has a heart for the small business owner.  Prior to going all-in with their non-profit iWork4Him Ministries, Inc., Jim's business acumen began by selling greeting cards as a kid, and expanded to insurance sales, owning a chain of Insurance Agencies, owning a used car dealership, and building an IT company Florida branch, as well as small business consulting.
Jim and Martha have worked side-by-side in their insurance agency and car dealership, and now together are running their non-profit iWork4Him Ministries, Inc.  Their desire is to help others see that their work matters to God and each day is an opportunity to impact others with the love of God.
Jim's God-gifted ability to ask the right questions, lends itself well to his role as host of the iWork4Him Radio program, the only daily Faith and Work radio program in America.   Jim utilizes his networking expertise to arrange daily interviews with authors, workplace believers, and ministries that are connecting Faith and Work. His favorite line is: "Your workplace is your mission field and in that mission field, you may be the only Jesus your co-workers or employees may ever meet."
Jim and co-host wife Martha share the microphone 5 days a week, engaging listener from across the globe.  They are passionate about their faith in Jesus and it drives their passion for excellence in everything they do.
iWork4Him airs in several cities 5 days a week and is podcasted on all the major platforms:  details and streaming are on their website www.iWork4Him.com
Become a listener and consider joining the iWork4Him Nation!  Jim and Martha would love to hear more stories of people living out their faith at work, simply go to https://www.iwork4him.com/contact.